KGuard® Leaf Free Gutter Guards Lifetime No Clog Warranty
Serving greater Grand Rapids & West Michigan
As a homeowner, it's essential to keep an eye on the condition of your gutters. Gutters play a vital role in protecting your home from water damage, so it's crucial to ensure they're functioning correctly. However, over time, gutters can become worn out, damaged,...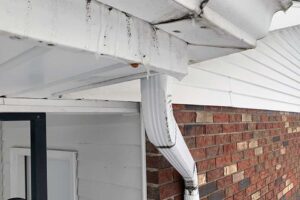 "KGuard was VERY professional and prompt on the install of our new gutter system. They worked with us to make sure the drainage system worked the way we intended it to. Install was quick and clean. Highly recommend using them. The finished product looks stunning and seamless. Worth looking into if you are upgrading your home as we were. Quality workmanship! We will recommend to family and friends.Can't was to not clean leaves out of our gutters this fall! What a time saver!"

"They are very professional. Their gutters are good quality for a great price."

"I received a quote for gutter cleaning and replacing one section of gutter with the KGuard product. They showed up within the estimated time period and installed the KGuard system in the agreed-on section. Travis knocked on the door at the end of the install and explained that he was removing the gutter-cleaning cost from the invoice because the cleaning was not necessary. What a great, honest company! Will definitely use again for any gutter needs. Thank you!"
Gutter Installation & Repair
Experiencing These Problems?
Gutters full of leaves and debris

Gutters leaking, rotting, or falling off your house

Toppers, helmets, and covers will not stop the leaking and rotting
KGuard Is Your Solution
KGuard gutter guards use patented technology to keep leaves out of your gutter

Patented, high-impact, all-weather polymer hangers

Protect your home while keeping it looking great
Looking for more information or a free estimate?