KGuard of West Michigan
Gutter Repair Services
Don't let your gutters fall into disarray!
Having proper gutter systems installed can be critical for safeguarding against complicated problems that may arise if ignored over time. Gutters play an important role by directing excess rainwater away from roofs effectively avoiding capillary action between the building foundations which leads to soil infiltration around perimeter walls creating instability eventually leading future cracks over time. Gutters also help avoid unsightly stains appearing from outside surfaces such as splashing soil onto house sides thereby reducing maintenance costs associated with cleaning exterior walls frequently .However ,if left unattended damages such as rotting wood fascia boards can occur leading to costly replacement processes. Our specialists offer prompt and reasonably-priced repair services for both minor and major gutter malfunctions ensuring your building's outer shell stays in optimal condition.
Fill out the form and get a FREE quote today.
Signs that you need
Gutter Repair Services
Even the most durable gutters can be damaged.
Having an effective gutter system in place is an extremely useful addition to a house. These systems protect your roof, foundation, and guard against stains. Below, we will discuss some of the numerous benefits of having a gutter system installed around your home.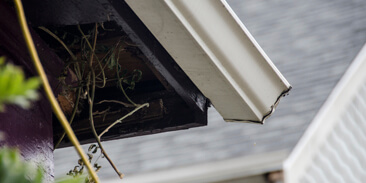 Sagging or Detached Gutters
The absence of a rain gutter system on your house can result in substantial damage to your roof. Water will begin to accumulate on the roof, causing numerous structural problems. The only solution is to divert this damaging excess water. A proper rain gutter system will ensure that water runs off of your roof without damaging it.
Pooling Water or Foundation Cracks
Pooling water surrounding your abode or cracks in its foundation could be a sign that there is something wrong with its guttering system. This occurs when either the guttering system or downspouts are impaired leading to rainwater accumulating around the critical structure of a house. Consequently, this could cause several problems ranging from soil erosion underneath leading to splitting foundations among other critical damages in extreme circumstances. If you've observed any signs showing these conditions exist at home, inspecting and repairing the faulty elements in the guttering system would be vital because faulty gutting is usually responsible for such damages.
Vinyl guttering products usually experience cracking over time, which can also affect some aluminum and steel models subjected heavily to environmental hazards. If a gutter comes into heavy impact from something like a tree branch falling on it, cracks can start spreading throughout the length of the spout.
Additionally, sectional gutters that connect via seams are prone to develop leaks with time if not installed correctly or due to seal erosion. That's why most seasoned homeowners prefer using seamless gutter systems for their high efficacy in preventing clogging and safeguarding against such issues.
It's imperative to address gutters' immediate needs for repair services when there are cracks or holes visible anywhere along their lengths because delaying may cause bigger problems down the road. So get in touch with us soonest after noticing any sign since we provide top-quality solutions tailored specifically according to your needs.
The benefits of 
Professional Gutter Repair Services
When it comes to repairs, please leave it to the pros.
Our Grand Rapids gutter repair specialists will have your gutters looking and functioning great again in no time! Gutter repairs are much less expensive than a full replacement and will leave your home protected for years. Below, we'll discuss the benefits of having your gutters repaired by our professional repair technicians!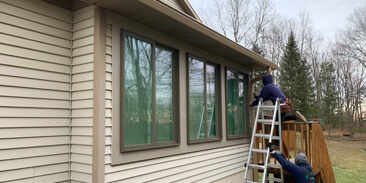 Identifying Damage Properly
When you choose a traditional sectional gutter system, many sections of guttering are pieced together by snap-in-place connectors. Over time these sections will develop leaks in the seams and can cause wood to rot behind the guttering. Seamless gutters are the most popular type of gutter today because where there is no seam, there is no leak. The only seams are on the inside and outside corners. Each seamless gutter we install is custom-tailored to fit your specific home.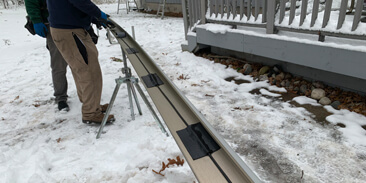 Extensive Repair Knowledge
KGuard Gutter Guards consist of two primary elements, the hood, and the gutter. A small opening between the hood and gutter enables rainwater to pass through while leaves and other debris are prevented from entering the gutters and downspouts. Water surface tension pulls the rain into the gutter while the debris falls harmlessly to the ground. This clog-free gutter protection system means that you will never have to clean out your gutters again!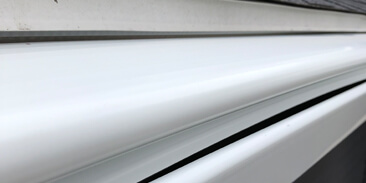 Long-lasting Gutter System
At times gutter replacements can weigh down on one's pocket. At our company, we recognize that you value durability, which is why we offer dependable solutions that guarantee longevity for years on end – provided Mother Nature cooperates. Relying on our professional repair services means recycling the future of your home. You won't have to worry about any malfunction due to lackluster installations or subpar techniques because at every step we handle everything with accuracy and caution.
Are your gutters in need of repairs? Call us today for a free estimate!
We can answer any additional questions that you may have and get back to you with a free, no-obligation quote.
Why invest in gutter repairs?
Gutters (Like Roofs) Have a Specific Lifespan
Most homeowners understand that their roofs have a very specific "lifespan" (usually between 20 and 30 years before main components need to start being replaced) but aren't aware of the fact that their gutters have a lifespan as well – and it's usually a shorter lifespan, too.
Your everyday run-of-the-mill gutter made 15, 20, or even 30 years ago probably only had a 3, 5, or 10 year lifespan (and the odds are pretty good that it was expected to fail even sooner than that).
Today, KGuard of West Michigan uses the KGuard gutter system. The install lifespan is significantly longer, but it is important to have your gutters checked regularly and repaired as necessary to keep them running like clock-work.