KGuard of West Michigan
Seamless Gutters Grand Rapids
Learn about our seamless gutter system
When it comes to homeownership in Grand Rapids, seamless gutter systems can offer many benefits over traditional gutters which homeowners may already be knowledgeable about. Instead of having many sections and potential leaks like traditional options, seamless systems are free from this issue entirely. Though their initial cost may be higher than others at the outset, their longevity extends beyond normal lifespan expectations for gutter replacements making them a wise investment choice for homeowners looking towards the future. Perhaps the most significant advantage over competitors is its waterproof nature which allows easy maintenance and care for homeowners on an ongoing basis along with complementing different house styles by accommodating various colors schemes making it an adaptable choice all around.
The Seamless Gutter
Advantages of Seamless Gutters
How this system will transform your home
Read further to understand why these gutters can change the way you care for your home's exterior forever. There are several advantages to seamless gutters, but here is a look at our favorite top three.
When debris has accumulated in your gutters, it can create the perfect, cozy home for various animals. If you've noticed squirrels, mice, frogs, or birds trying to make a home in your gutters, they're likely full of debris. The same principle applies to plant. When dirt and debris are have built up in your gutters, weeds, grass, and even flowers can sprout in them. The presence of plants and animals in your gutters is a sure sign that they need to be cleaned.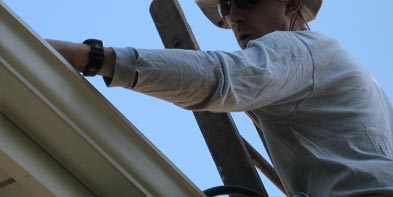 A common grievance amongst homeowners is dealing with obstructed gutters causing drainage issues. The presence of seams makes it easy for debris such as leaves, pine needles or other waste particles to become trapped which leads to frequent blockages. Clearing all this waste often requires hauling ladders around your property repeatedly which can be difficult and invasive. A seamless gutter design removes much of this hassle by eliminating trapping points for debris, allowing water flow without much disturbance from objectionable items that tend not to gather in these systems as often compared with standard designs. Many property owners have found that installing seamless gutters has been an efficient investment overall.
This is the most prominent sign that cleaning your gutters can't wait any longer. When the buildup of debris in your gutters reaches a certain point, the sheer weight of this debris will begin to pull the gutters away from your house. This is the last sign that you need to have your gutters cleaned before they become damaged to the point of needing a gutter replacement. If you notice that your gutters are beginning to sag, have your gutters cleaned immediately!
Install Seamless Gutters 
Our Install Process
Get seamless gutters installed in Grand Rapids
We have a simple installation process that can be broken into three parts. Read more below about how to get started on this journey and what our installation process looks like.
This benefit may come as a surprise, though having your gutters cleaned professionally can save you money in the long run. While cleaning your gutters yourself can save money upfront, it's possible that you can miss signs that more is wrong with your gutters than the fact that they're dirty. Hiring a professional gutter cleaner can save you time and money by allowing a professional to make sure it's done correctly and check for signs that your gutters may be damaged before disaster can strike.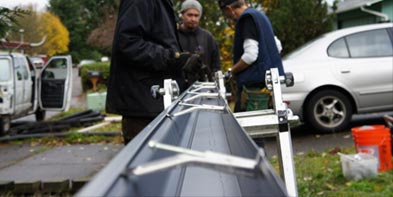 Climbing on the roof is a dangerous task regardless. The risk of slipping and falling is high. Many times, injuries can occur from falling as the result of slippery surfaces or poorly maintained equipment. Having a professional gutter cleaner will allow trained personnel who have the proper safety tools, equipment, and experience to get the job done quickly and safely. This way you're not only investing in your home, but you're also investing in your safety.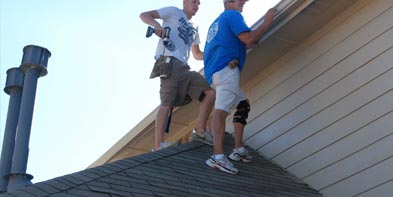 Planning and executing an impeccable seamless gutter system installation calls for industry expertise laced with meticulousness right from scratch. Which is why all our highly experienced crews show up fully prepared with required material and tools on installation day for seamless installations that guarantee homeowner satisfaction
Assessing your roofing design specifics and outlining which material- galvanized steel or aluminum – will be most effective before beginning the work ensures that we set up fittings tailored precisely accordingly- within your budget range as well as order specifications.
Installations are typically completed within a day unless some projects present detail-oriented obstacles along the way. In those cases, extra time may be needed, but rest assured – the same level of attention paid to simpler installations will remain consistent throughout every step ensuring precise results leading towards complete client satisfaction.
Ready to Get Seamless Gutters? Call us today for a free estimate!
We can answer any additional questions that you may have and get back to you with a free, no-obligation quote.
A full-service gutter company
At our business. We're passionate about providing exceptional gutter services throughout Grand Rapids. Regardless of the homeowners' needs concerning installation projects or repairs for traditional or seamless systems – count on our expertise.
As highly capable tradespeople we take pride in understanding the products we use while being knowledgeable about solving problems so that every client receives the best service possible. Moreover.
Our company is licensed and insured to ensure our customers' peace of mind during every job we undertake. Our goal has always been to offer homeowners across Grand Rapids high quality gutter solutions at affordable prices! Whether its' fixing repair works or improving the cosmetic appearance with new installations – let us do what it takes so that climbing up ladders will not be something you worry about any longer! Rest assured that with just one phone call – professional courteous experts are there waiting patiently eager to get started with a comprehensive solution; contact us now!