KGuard of West Michigan
Gutter Cleaning Services
Don't let your gutters become clogged!
Unkempt clogged gutters not only detract from the appearance of your property but also pose a significant risk to its overall health if left unchecked for long periods. As such, ensuring regular maintenance for clean and well-functioning gutter systems is crucial for endless advantages such as safeguarding against property damage due to overflowing water and maintaining high home value amongst others.This is where our proficient team comes in with unbeatable gutter-cleaning services within Grand Rapids region that guarantee optimal performance levels while enhancing aesthetic appeal on every instance.Consider partnering with us today for continued longevity surety,and avoid any avoidable headaches occasioned by poor drainage systems
Fill out the form and get a FREE quote today.
Signs that you need
Gutter Cleaning Services
Gutters should be cleaned at least twice a year.
Cleaning gutters out routinely is one of the most common maintenance tasks that homeowners forget about. If you're prone to forgetting this important chore, here are some of the signs that mean it may be time to clean out your gutters.
Plants or Animals Have Moved in
Gutters clogged with debris often create a perfect living environment for different animal species such as mice, squirrels or birds looking to make themselves at home somewhere warm and snugly. Meanwhile, the same type of growth occurs with plants when dirt and excess matter have accumulated within the gutter system over time. In such instances weed sprouts are commonplace while flowers grow too but whatever forms you can see is usually indicative of accumulated waste inside the guttering.
Procrastinating on gutter maintenance leads to an eventual saturation of dirt and debris that obstructs the passage of water causing it to cascade over gutter edges despite there being available downspouts. These obnoxiously loud miniature waterfalls usually leave homeowners soaked when walking outside their homes. Vigilantly monitoring gutter overflow is crucial so that prompt cleaning action can follow.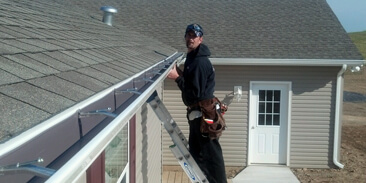 With all due respect, I would like to suggest an urgent matter that requires appropriate attention- timely tidying up of the gutters on rooftops. If there is an accumulation of debris in them beyond measure, it creates immense pressure, ultimately removing or displacing relevant parts such as fastening struts and screws for holding onto walls come off by itself with time and cause a lot more damage than expected by homeowners seeking professional services only after seeing their expensive property at risk by then irreparable harm . The beginning indications include not only misalignment but also noticeable sagging; hence immediate actions such as availing expert service cleanup providers should be employed without delay.
The benefits of 
Professional Gutter Cleaning Services
Having your gutters cleaned professionaly has many benefits!
Our Grand Rapids gutter repair specialists will have your gutters looking and functioning great again in no time! Gutter repairs are much less expensive than a full replacement and will leave your home protected for years. Below, we'll discuss the benefits of having your gutters repaired by our professional repair technicians!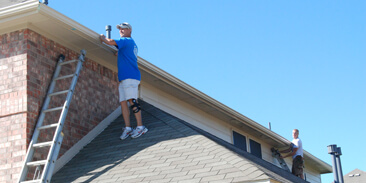 Paying for professional gutter cleaning services may initially appear more costly than doing it yourself. However hiring experts is a smart investment that yields great returns over time when it comes to home maintenance costs. Often those who opt for self cleaning methods miss out on important signals indicating gutter damage beyond just dirt build up. A well trained cleaner ensures proper channel cleansing and examines them for any issues. Unforeseen complications are avoided through early detection thereby saving homeowners cash through reduced repair costs. The bottom line is simple – opting for professionals pays off in more ways than one!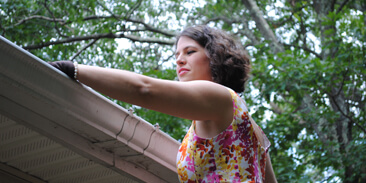 Ascending to the roof is an activity fraught with peril, regardless of one's level of expertise. The specter of losing footing and plummeting to the ground presents dire outcomes that can leave one with lasting injuries. On many occasions, falls emanate from wet surfaces or poorly maintained apparatuses which further increases health hazards. By contracting professional gutter cleaners highly skilled in using appropriate safety tools/equipment/techniques; you can shield yourself from potential danger while achieving prompt results concerning your residence's maintenance.
The most significant benefit of replacing your gutters is to protect your home from water damage. When water doesn't properly flow through your gutters, it can leak or overflow. If it pools around your home, it can flood your basement and cause damage to your home's foundation. Not only will this excess water damage your home, but it will also affect your landscaping and hardscaping. A gutter replacement will prevent stained pavers, cracking driveways, and drowned plants. This service will protect your home for years to come.
Need your gutters cleaned? Call us today for a free estimate!
We can answer any additional questions that you may have and get back to you with a free, no-obligation quote.
Why invest in KGuard Gutter Guards?
With a leaf-free gutter guard system!
If keeping up with gutter maintenance has become a recurring source of strain for you, an investment in KGuard gutter guards could alleviate these concerns altogether! By blocking debris like leaves and twigs from entering your gutters entirely, KGuard can significantly reduce the amount of upkeep necessary. We provide professional installation services for this unique system throughout Grand Rapids. These seamless one-piece units add value and beauty to homes beyond their incredible functionality at safeguarding against buildup better than traditional mesh or cap systems can claim. Worried about small particles like dust? No problem! These five-inch-wide gutters pair perfectly with 3×4 inch downspouts to quickly flush out anything caught before it accumulates over time. Switching over to KGuard gutter guards means no more irritation from regular maintenance- take advantage of our affordable rates today!