Need new gutters? Call us today for a free estimate!
We can answer any additional questions that you may have and get back to you with a free, no-obligation quote.
Grand Rapids, Michigan
Quality Gutter Services
Keep reading to learn more about our aluminum gutters & the benefits of installation
We respect your decision making process when it comes to weighing the different options available for gutter materials. In order to assist you in making an informed choice. We recommend considering aluminum gutters – they have become increasingly sought after among homeowners due to their attractive features such as affordability, light weight, and superior protection against leaks and clogs. Though not as durable as other materials such as copper or steel. Aluminums' ease of installation makes up for its slight disadvantage. We take pride in the expertise and skillset of our team members who specialize in fitting your custom made aluminum gutters precisely onto your property landscape. Moreover the wide range of color options make them blend seamlessly into any environment without disrupting its beauty. To ensure quality service from start to finish at a fair price point. We encourage you to contact us today for a no obligation estimate on securing aluminum gutters for your home.
Grand Rapids, Michigan
Quality Gutter Services
Keep reading to learn more about our aluminum gutters & the benefits of installation
We understand that choosing a gutter material can seem overwhelming between all of the different options and variations available. One of the most popular material choices for gutters is aluminum because it offers countless benefits and advantages for homeowners. These gutters are affordable, lightweight, and come in countless colors so you won't have to worry about the product not matching the color scheme of your home. While aluminum may not be as strong as other materials like copper or steel, they still provide exceptional protection against damage and are one of the easiest options to install. Our team of gutter experts have years of experience installing aluminum gutters and have the tools necessary to provide a flawless final product. Don't wait, reach out to us today for your free no obligation aluminum gutter estimate!
Fill out the form and get a FREE quote today.
What Makes Aluminum Gutters
The Best Choice For Michigan Homes?
Functional, Durable, Lightweight
Learn more about the advantages of having these functional gutters installed on your home by reading below. Don't hesitate to reach out to us with any questions or concerns.
For those deliberating on which gutter material would suit their homes best, aluminum gutters offer a variety of alternatives. They come in various styles, sizes plus colors making it worth considering for your specific needs. The freedom of choice enables homeowners to choose unique designs that harmonize with their homes' exterior theme optimally hence potentially boosting their curb appeal while creating inviting spaces within one's home abode. Also worth noting is that if you have unconventional shapes like angles and curves as part of your building structure Aluminum could be more ideally suited as opposed to other inflexible materials like Copper or Steel. Finally, customized coloring options are possible thanks to Aluminum's ability for paint application thus making the creation of different color schemes quite feasible.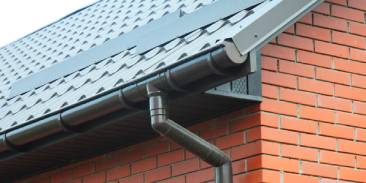 Invest in a reliable solution that will provide lasting protection for your property – choose aluminum gutters today! Its sturdy build ensures that you won't have to face constant replacements that leave you at risk of water damage. Not only will your home's aesthetic remain intact but so will its functionality since rust is no match against this material. Over time, these systems have been proven to last on average around 20 years and with mindful care like timely cleaning plus downspout and extension maintenance by professionals we trust – some systems may even surpass our expectations by going strong up until three decades from installation day! Need more information before making the switch? Our team is waiting for your call or message.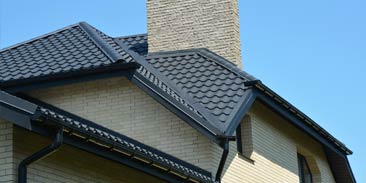 Undoubtedly a sturdy alternative for various applications in construction industry Aluminum remains one of the most widely used materials thanks to its impressive durability properties granting ita lifespanof around two decades before needing any fixes or replacement.Most notable about this material is its abilitytorust resistance, which further enhances its overall endurance power.Regardless of the wrath delivered by Michigan winter storms highly impactful hurricanes whose impacts causes branches or other unruly debris being picked up by heavy wind currents homeowners can rest easy knowingthat they chose wiselyin selecting aluminumsfor their rain-gutter installation; which thanks t0its innateabilityto enduresuch scenarios,and affordable cost make itan unmissableinvestment option among builders.
Additional Gutter Options
For Our Grand Rapids Clients
Enure functionality & increase the longevity of your aluminum gutter system.
In addition to gutter installations, our experts can also provide additional materials to help preserve your home and ensure your gutters function like new for years. Read below to learn more about these supplementary services.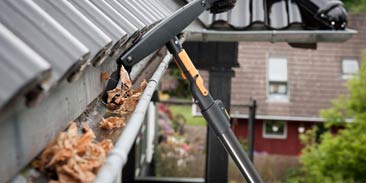 The process of cleaning out gutters by ascending ladders can prove quite daunting for many individuals given its risky nature coupled with untimely demands at times. Fortunately. Prospective buyers have the option to invest in leaf guards as a means of avoiding this undesirable task. Leaf guards provide a layer of protection against debris accumulation in gutters therefore preventing blockages and leaks. With a variety of styles available to suit individual preferences and requirements. Gutter Grand Rapids is pleased to offer the K Guard leaf free gutter system as an excellent solution.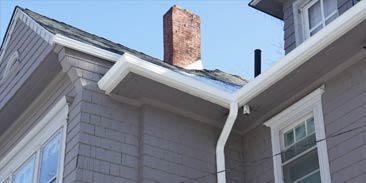 Ensuring top notch security for your home requires considerable attention towards all its aspects – including effective gutter systems consisting of both gutters and underrated components such as downspouts and extensions. These underestimated pieces hold paramount importance in keeping moisture away from your home foundation – preventing any damage due to negligence. At Gutter Grand Rapids we provide an extensive range of downspouts – including large size varieties designed to expedite water movements. Disregarding such fundamental elements can risk your propertys' well being, which is not a wise decision. Thus. Get in touch with us at Gutter Grand Rapids today and benefit from our complementary quote facility.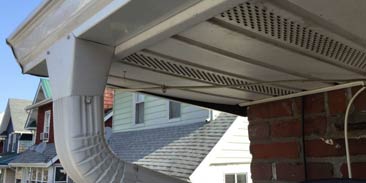 Seamless Aluminum Gutters
When it comes to fixing potential leaks and avoiding household damage. Seamless aluminum gutters are an excellent proactive approach that cannot be underrated. The distinction between such gutters and standard ones lies notably in material and design.
While standard gutters require section fixing. Seamless ones come in a single piece, made of high standard aluminum to prevent possible leaks or damages. Additionally they provide a modern look that adds elegance to your home while equally being robust enough like traditional material options. If you're unsure which option fits your property best. Do not hesitate to get professional advice from us! We're more than willing to guide through making informed choices.
Ready To Move Forward With Galvanized Steel Gutters?
Call us today for your free estimate!
Highest Quality Services In Michigan
Aluminum Gutter Installation & More!
Your search for reliable gutter services stops here with KGuard – the premier provider in Grand Rapids Michigan! Our experienced professionals have been serving the community diligently over multiple years by providing excellent solutions related to gutters-related tasks of homeowners everywhere everyday – We never compromise on quality service no matter how challenging it gets!
We make use of cutting-edge techniques and tools in combination with high-quality materials sourced from reputable suppliers around the country so you never have to worry about durability or longevity. We're proud to offer a wide range of high-quality gutter services, including aluminum gutter-replacement solutions that represent an outstanding balance between product price point and exceptional functionality within reasonable limits thereof, regular cleaning maintenance plans designed to keep your property safe from damage throughout every season alongside repairs each time they may be necessary – all planned meticulously according-to specification we pay close attention-being always customer-friendly.
Customer Experience is paramount with us: In each version above customer satisfaction remains our top priority.
Each version encourages customers to book a free consultation through personalized requests at different points throughout outreach efforts made by customers taking note of differences between each service provider's approach dependent on unique/personalized responses received while responses should reflect professional yet friendly demeanor-always keeping language respectful-yet-informative.
Opinions should always be communicated clearly and cogently using varied sentence structure throughout all versions.