KGuard® Leaf Free Gutter Guards Lifetime No Clog Warranty
Serving greater Grand Rapids & West Michigan
Residential Gutter
Installation
Commercial Gutter
Installation
Make the last time you cleaned your gutters,
"the last time you clean your gutters."
Gutter Installation
We think you'll be amazed at just how affordable these upgraded gutter systems are – and how quickly they go up! Interested in upgrading your gutters with our KGuard system, or want us to swing by and provide you with a free inspection and no strings attached estimate - contact us today!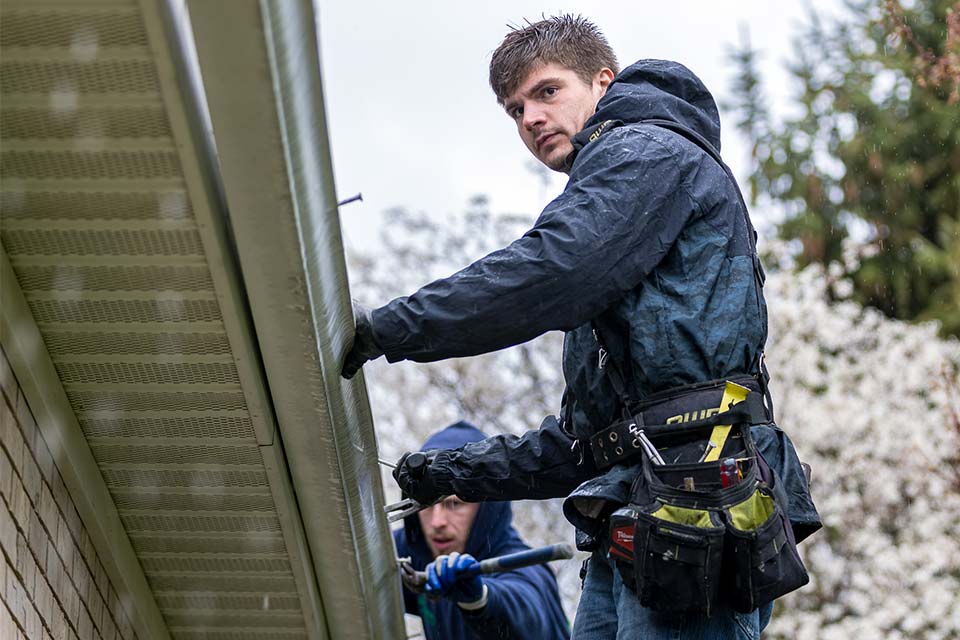 Gutter Repair
Small problems can snowball into huge emergencies faster than you think, and why we recommend homeowners in Grand Rapids (and the surrounding area) reach out to us ASAP to get a better feel for the health of their gutter systems when they don't remember when they had their last inspection.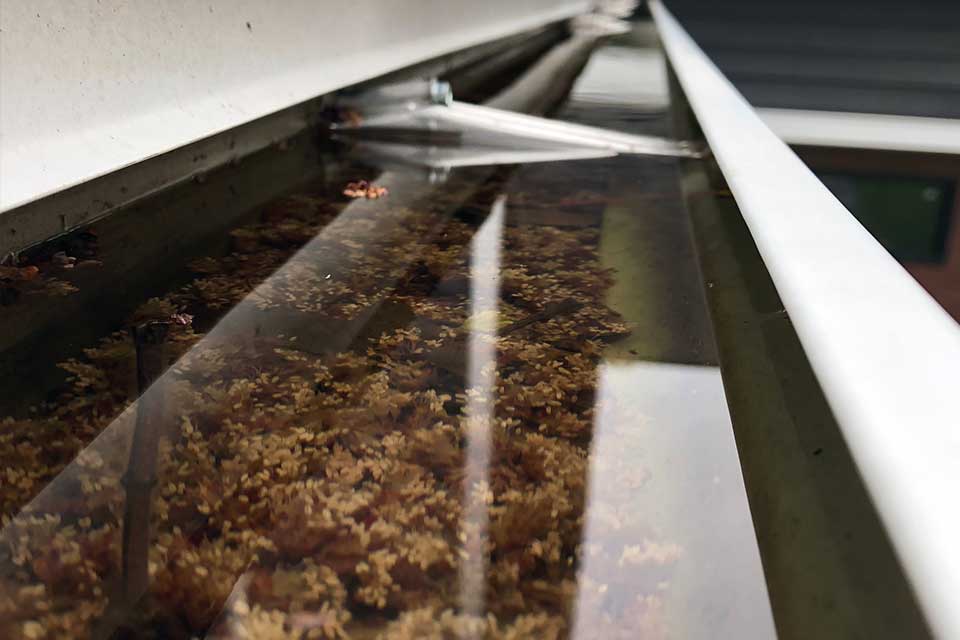 Gutter Cleaning
Call today to schedule a free appointment where either Travis or Justin will arrive to perform a quick inspection. We'll then handle the dirty work of cleaning out your gutters and make sure they aren't compromising your roof, walls, foundation, or any other area of your home.
Gutter Service Information
Gutter Installation
Even if they don't look like the most important thing on the exterior of your home, your gutters are responsible for protecting your home 24/7 – especially when the rain and snow starts to come down here in West Michigan!
The front line of defense against your home are your gutters to collect, channel, and direct water flow away from your home and your foundation.
However, to perform as intended, gutters need to be clear of dirt, debris, leaves, and standing water.
If your gutters become compromised (and every West Michigan homeowner learns that every gutter system fails eventually) you're not going to be dealing with gutters that get flooded.
You're probably going to be dealing with a roof that starts to leak, walls that start to get waterlogged, and a foundation that begins to be eroded away – all of which can lead to expensive fixes in the future.
With the KGuard gutter system available here at KGuard of West Michigan you won't have to worry about those problems any longer!
Gutter Repair
Though some gutter problems are pretty easy to diagnose from the ground (you'll notice obvious damage or destruction to gutters that had seen better days), a lot of gutter problems are difficult to diagnose until you jump on a ladder and start digging around to see why your gutters aren't working the way they should be.
Each year, KGuard of West Michigan helps friends, neighbors, and community members throughout the West Michigan area with gutter repair – most often in the spring and early summer.
This is when you're going to start to see obvious signs of your gutters not working the way they should, especially when the rain starts to come down, the snow starts to melt, and many of the leaves or branches that fell into your gutters during the fall back things up in a big way.
Gutter Cleaning
There isn't a homeowner on the planet that loves the idea of tackling gutter cleaning projects every spring and every fall, but ignoring this essential service won't just create a lot of headache and a lot of hassle – it can also cause expensive damage to your home!
Clogged gutters aren't just unpleasant to look at (or unpleasant to smell, especially in the springtime).
Clogged gutters also lead to significant water damage problems – particularly when these gutters start to backup and overflow, start to soak your roof eaves, your important roof systems, and even start to leak down your walls and begin eroding away your foundation.
Gutter cleaning isn't something that can be put off year after year without eventually paying the piper in a big way.
Hire the right professionals to tackle your gutter cleaning issues with our experts here at KGuard of West Michigan!
We started KGuard of West Michigan in the spring of 2010. Since then, we have provided West Michigan and thousands of customers throughout Grand Rapids the best products and service available. We have grown year after year providing Grand Rapids, MI with the most superior Roof Cleaning method available. We also offer the most advanced gutter system – the KGuard Leaf Free Gutter System. Having worked with over a dozen gutter covers and different screens available, we realized that all PVC and screen materials will break down in our climate.
Motivated by the realization that the gutter industry had yet to provide a viable and effective solution to the everyday problem of gutters is when we knew it was time to offer a product that would solve the problems of open top gutters. We decided to offer and manufacture KGuard Leaf Free Gutters. We started to provide homeowners the opportunity to invest in a gutter system that would solve all the problems of conventional open top gutters. Clogged gutters, sagging gutters, and damaged gutters from snow & ice.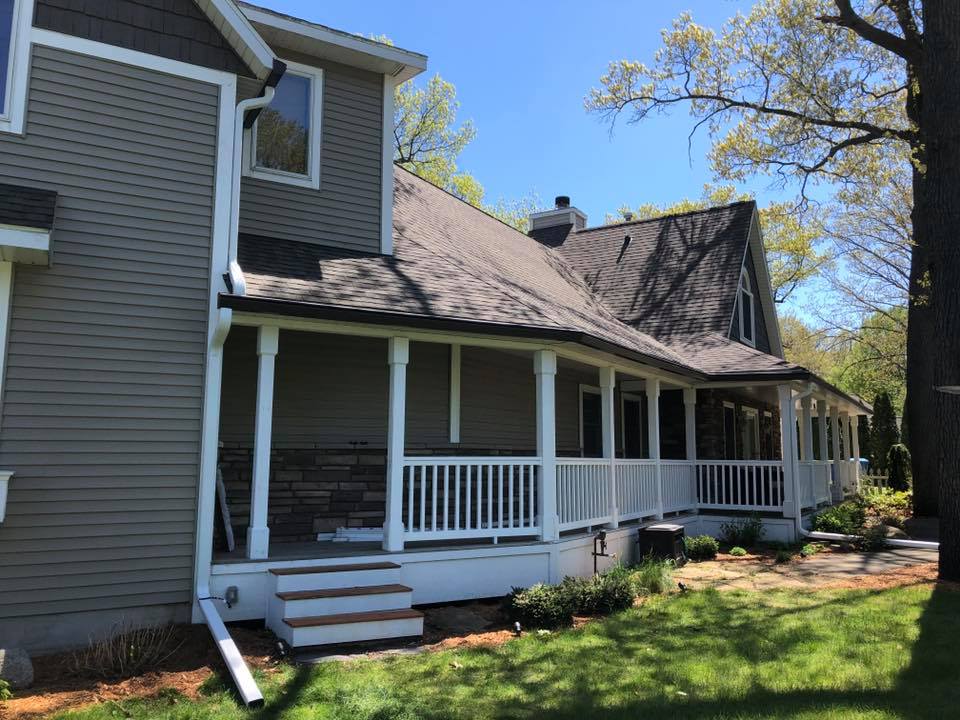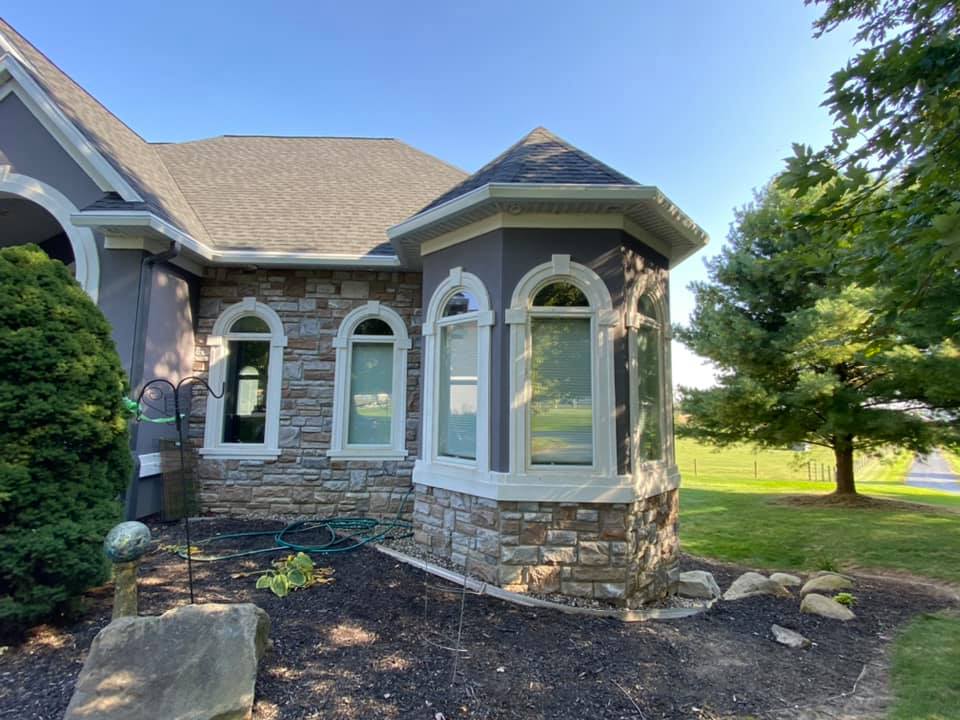 Why is it necessary to have gutters installed?
Gutters are an important component of your home's structure. They prevent rainwater from running off your roof and causing damage to your foundation, roof, and siding. In many areas, gutters are required by building codes to protect your home from water damage. Investing in a good gutter system is crucial for the longevity of your home.
How many downspouts do I need for my gutters?
The number of downspouts needed will depend on the slope of your roof and the design of your home's rooflines. Typically, a downspout should be installed every 20 to 30 feet of gutter. However, if your area experiences heavy rainfall, more downspouts may be needed for better water control.
Which material is best for gutters?
Seamless aluminum gutters are the most popular option for homeowners due to their low annual cost, color variety, and long-lasting durability before rusting. Copper gutters can last up to 50 years, but are expensive, while galvanized steel is able to withstand harsh weather conditions but requires more maintenance and comes in limited colors. Vinyl is the least expensive option, but it doesn't last as long as other materials.
How frequently should I clean my gutters?
If you have gutter caps installed, your gutters may not require any cleaning. However, if you don't have gutter caps, it's recommended to clean your gutters at least twice a year, in the spring and fall. Clogged gutters can damage your roof or foundation, so it's essential to keep them clean and prevent them from sagging or falling off.
Why should I replace my gutters?
Gutters that are holding water or leaking can cause water damage to your home, while older gutters may not be draining correctly or may be pulling away from your house. If your gutters are bent, they may not be repairable, which can cause drainage issues. Replacing gutters is also a great option to improve the appearance of your home and match the style and color of your siding.
How will I know if my gutters aren't functioning properly?
It's important to do regular inspections to ensure your gutters are functioning properly. Check your gutters and downspouts for separation or cracking, and make sure they are all properly aligned. If you notice peeling paint on the exterior of your home or if something seems off, call a professional to inspect your gutters.
How long will my new gutters last?
When properly installed and maintained, aluminum gutters can last up to 20 years, while copper gutters can last up to 50 years. Gutter guards like K-guard gutters can also extend the life of your gutters by preventing clogs and debris from accumulating.
How much does it cost to install gutters?
The cost of gutter installation depends on the type of material you choose for your gutters and the total number of feet required to cover your home. The average cost for an aluminum gutter system with downspouts is around $850, with most homeowners spending between $650 and $950 for installation.
Why should I consider a gutter guard system like K-guard Gutters?
Gutter guards prevent debris like leaves and twigs from clogging your gutters, while still allowing rainwater to flow freely. K-guard gutters eliminate the need to clean your gutters regularly, which can save you money and the danger of climbing a ladder. With gutter guards, you can enjoy peace of mind knowing your gutters are protected

"KGuard was VERY professional and prompt on the install of our new gutter system. They worked with us to make sure the drainage system worked the way we intended it to. Install was quick and clean. Highly recommend using them. The finished product looks stunning and seamless. Worth looking into if you are upgrading your home as we were. Quality workmanship! We will recommend to family and friends.Can't was to not clean leaves out of our gutters this fall! What a time saver!"

"They are very professional. Their gutters are good quality for a great price."

"I received a quote for gutter cleaning and replacing one section of gutter with the KGuard product. They showed up within the estimated time period and installed the KGuard system in the agreed-on section. Travis knocked on the door at the end of the install and explained that he was removing the gutter-cleaning cost from the invoice because the cleaning was not necessary. What a great, honest company! Will definitely use again for any gutter needs. Thank you!"
Gutter Installation & Repair
Looking for more information or a free estimate? Contact Us below